We have made it our goal to help goalies improve their game and to support them in achieving their hockey dreams. We believe in individual support for every goalie and in customized, modern Training methods, so that every goalie can reach their full potential.
We work with a maximum of two goalies per net and coach. There is always enough time to ask questions and to discuss any issues related to a specific movement or drill, because we want our goalies to actively think about the way the game is played. At ICG, we give our goalies as many tools as we can along the way, so that each and every participant can decide for themselves what will give them the biggest advantage to their game in the crease.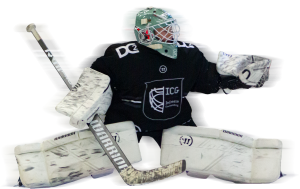 We are firm believers that specific training done with high quality and intensity is far more effective than a mix of many drills and a high number of reps. That is why we concentrate on very small, basic movements with few reps (6-8). Proper execution is key. The more a simple movement can be repeated perfectly, the faster it will become a natural reaction for a goalie. In hockey, there is rarely a moment to think about the next situation or the next save. Therefore it is crucial for goalies to be able to react automatically with the right movement.
At the end of the day, we want all our goalies to leave the camp with a renewed sense of confidence in their abilities and a drive to start the next season, with the tools they gathered at InCrease Goaltending leading them to success.